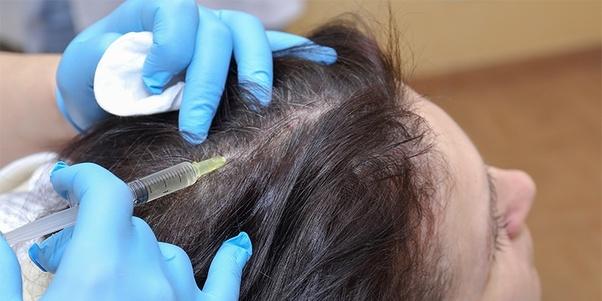 What is the prp treatment? Platelet-rich plasma(PRP) is an alternative non-surgical choice for men and women suffering from severe hair loss. For scalp, skin and hair incitement, scientific studies and medical technologies have provided this natural analogous technique. PRP contributing to most arriving techniques is serving sufferers in bringing back lost hairs. It works by decamping sufferers' blood. This blood is then further processed for getting platelet-rich plasma fortified cells. These growth factors cells enriched with proteins are crucial for promoting hair growth. PRP is injected into the scalp for stimulating hair growth bearing mild stress on the site of injection.
PRP (Platelet-Rich-Plasma) is extracted through centrifuging so that the plasma & platelets get separated & collected through a centrifuge. Plasma contains growth factors whereas platelets are used for regenerating tissues & for excellent healing. PRP Hair treatment in Islamabad & Rawalpindi is very effective for Hair Loss.
Results And Benefits:
Hair loss taking place due to alopecia, genetic and environmental factors has made people conscious about their physical appearance. PRP treatment in Islamabad, Rawalpindi and Pakistan is satisfying many people with outstanding results. Results may vary from person to person encouraging proper hair growth with soft tissue healing. Such treatments are ending up with clear and consistent outcomes, fulfilling the patient's expectations.
Results:
Increased hair density
Narrow part line with dense hair
Successive results in a single treatment
Aesthetic outcomes
Complete results in 6-8 months
Decreased hair shedding with increased hair restoration
Benefits:
No use of surgical tools, no discomfort
Fast recovery process
Availability of more styling option
Effective and adequate results within 3 months
Aids in supplanting facial and scalp hairs
Short procedure lasting for an hour
The option of having appealing looks
Low cost with a high success rate
Minimal risk of body infections as it uses the body's own blood cells
Who Is Candidate?
People who are a victim of hair loss persuaded due to nutrition, heredity, diet, stress, medications and other factors should go for in order to regain the lost hairs. By reusing your own blood deposits specifically platelet-rich plasma, you can say goodbye to hair related problems. Non Risky and no side effects of this treatment for hair is considered to be one of the safest treatments from others. Preferred candidate:
Should be at starting stages of hair loss
Hair follicles must be moderately active
Must be medically good in health
Should have down-to-earth expectations
People on blood thinners are not welcomed
Aim Of Treatment:
PRP in Islamabad aims to be one of the scientifically proven techniques for overcoming hair loss problems. (Platelet-rich-plasma) PRP is basically a serum with an enriched amount of platelets that is contributing to face over worries related to thin hairs by providing dense thicker hairs.
Technique We Use:
PRP in Islamabad procedure is comprised of mainly four steps that are widely taking part in hair restoration technique. Give a look at how it is carried out.
The first step involves the collection of 30-60 ml of blood from the arm of the patient.
Collected blood is passed through centrifuge at a varying speed which gives rise to separation of blood particles into platelet rich plasma, platelet poor plasma, and red blood cells.
Extraction and Injection of Platelet Rich Plasma:
From the solution tube of PPP, PRP and RBC's, platelet-rich plasma is extracted and is activated using an activating agent. The injections filled with PRP are injected into the affected area of the scalp with the help of microneedle.
Recovery:
The recovery period of PRP hair treatment in Islamabad and Rawalpindi takes no time. Sufferers do not undergo redness, swelling and bruising on the injection site and can go home on the day of treatment. Hair roots start appearing within six weeks. Patients are advised to start daily activities after one day of treatment. Permanent results with thick strong hair are visible after 3 months of treatment.
Cost of PRP Hair Treatment
Cost of PRP in Islamabad and Rawalpindi ranges between 10 to 20 thousand per session. Cost and Sessions depends upon hair regrowth. Some people get excellent results in 2-3 sessions and other get results in 5-6 sessions. This non-surgical prp hair treatment starts providing results after first treatment.
Schedule A Free Consultation
PRP hair treatment enhances body appearance, self-confidence, and quality of life. At Cosmesurge International Hospital in Islamabad and Rawalpindi, we offer PRP hair treatment in Rawalpindi for hair loss therapy for both men and women. Who are worried in regard to hair loss. If you want to regain your natural looks then schedule an appointment with one of our expert practitioners by simply filling the free consultation form.