Scalp Micropigmentation SMP in Rawalpindi & Islamabad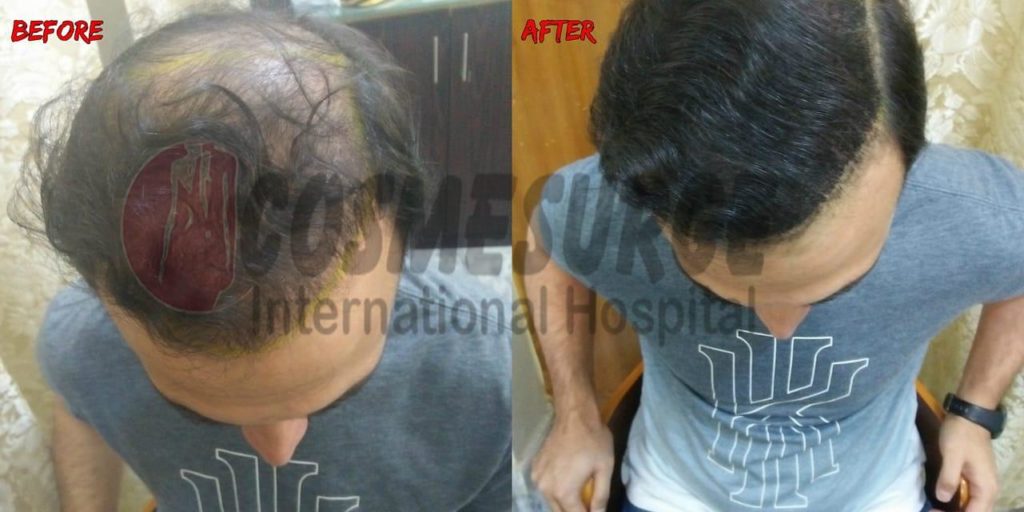 The wide number of surgical treatments is available for treating hair loss problems. But most of the people consider them expensive and inaccurate than the quality of hair they get in return. Besides this, many people are afraid of undergoing surgical procedures and scarring and they want an alternative to get back the lost hairs. Scalp micropigmentation SMP in Rawalpindi and Islamabad is playing an alternative role to hair transplant and works by injecting tiny pigments with the help of micro-needles into scalp to stimulate the hair growth. This multi-step procedure dyes the scalp with different colored pigments that resembles the color of shaved scalp. This non-surgical treatment is winning the heart of millions of people by returning them thick long lasting hairs.
Results and Benefits:
Results:
The procedure provides long lasting balance and strength giving sufferer the confidence to go through it. This cosmetic pigmentation procedure at COSMESURGE delivers guaranteed results. Depending on the advanced equipments used and skills of a well-trained experienced surgeon, patients go through full head of hair with aesthetic outcomes. Result of scalp micropigmentation in Islamabad and Rawalpindi vary person to person according to the desires of patient.
Benefits:
Budget friendly
No need of surgery and scarring
Conceals prior hair transplant scar
Enhances and strengthens the hair density
Non-invasive technique with minimal maintenance
Significant improvement in self-confidence and self-image
Replication of your own hair follicles with natural hair color
Who Is Candidate?
This non-surgical cosmetic procedure can be applied to both men and women who are above age of 18. You're an ideal candidate of scalp micropigmentation in Islamabad if:
You've realistic expectations
You're afraid of surgical procedures
You're suffering from hair thinning or alopecia
You've receding hairline and want to attain well defined one
You want to mask bald spots without undergoing any surgical procedure
Aim Of Scalp Micropigmentation SMP in Rawalpindi and Islamabad:
This non-invasive technique is aiming to solve the hair loss problems of individuals with completely bald heads and people with extremely thin hairs, to attain the type of hair line they desire. The major goal is to make replication of hair follicles by simply inserting the colored pigments into scar tissue.
Technique We Use:
The scalp micro pigmentation technique uses highly advanced equipments and demands expertise of a practitioner to come up with successful outcomes. Once you've consulted the surgeon, you will be guided through the process and he will make you in selecting the style you should go for. The treatment completes in two or three sessions consuming 3-4 hours.
The ink that needs to be introduced in the scalp is matched with the natural hair color following accurate precision that penetrates deep into epidermal tissues stimulating the hair follicles.
In the first session, there is a limited introduction of colored pigments into the scalp by using a very sophisticated needle. During this, your scalp may appear red which will get to normal within a day.
This step determines the fading tendency of the pigments and provides sufficient time to the patients to get adjusted with the new appearance.
In second session, a very large number of pigments are inserted to get the excellent end result.
If the patient wants to get darker shade he can go for the third session as well.
scalp micropigmentation SMP in Rawalpindi and Islamabad is carried out by using a gentle approach to give natural looking results.
Recovery:
This non-surgical technique requires only a week to recover properly. Mild irritation and redness can appear right after the surgery which fades off within few days. This is one of the normal effects that arise due constant puncturing of needles.  The treated area heals at different rates and healing timing may vary depending on person's healing capacity and expertise of surgeon. Once the patient overcomes the healing process sufficient number of pigments will penetrate deeply into the skin epidermis for achieving best results.
Schedule A Free Consultation:
Cosmesurge International Hospital in Islamabad and Rawalpindi proudly offers scalp micro pigmentation in twin cities and the surrounding areas for all of the above-mentioned procedures. If you are unsure, that you are a candidate or not please contact by filling the consultation form. We would be happy to discuss how we can use SMP to help you!